Reloading 9mm Ammo
9mm is said to be one of the most common handgun rounds in the world, and it is trendy in the United States. And for the 9mm reloader, you need to be reloading 9mm ammo with the correct bullets.
You can find copper 9mm reloading bullets in weights 115, 124, and 147 grain. As for the lead bullets, you can commonly find that in 125-grain too. You can also use a 90 or 100-grain bullet tip, but you may have difficulty loading it into a 9mm case. They are usually used for the 380 ACP as it has the same base diameter.
Diameters of .355/.356 are typical for these bullets and can be used interchangeably. Copper-plated and lead bullets are usually .356; most copper jacketed are .355.
9mm Bullet Reloading
It is important to note that 'bullets' are projectile tips or bullet heads; they can't just be put into a gun and fired. They are one of the four required components to make a 'live' cartridge (ammunition). So make sure you are shopping for what you expect the product to do; if you want 'ready to fire,' then you are looking for 'ammo' or 'ammunition.'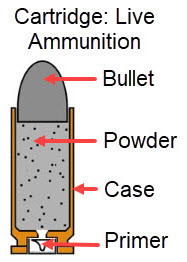 9mm Reloader Information
Familiar 9mm projectile tips/bullet heads are Round Nose (RN) and Hollow Points (HP), with many variations on each. For example, Berry's Bullets manufactures both a Target Hollow Point (THP) and a Hybrid Hollow Point (HHP)). Hornady manufactures an eXtreme Terminal Performance (XTP) and a Hornady Action Pistol (HAP). For self-defense and small hunting, a Hollow Point bullet is preferable for expansion and knockdown. For plinkers, however, the 9mm reloader should consider a plated bullet such as Berrys or a lead bullet which works well and gives you the best bang for your buck. The slower burning powder works well with 9mm Luger bullets because of their low to medium velocity (1,000 - 1,500 fps).
Tightgroup, CleanShot, and CFE Pistol powders are just a few that reloaders use with 9mm reloading bullets. When reloading cartridges, ALWAYS remember to follow your data guide and stay within the standards listed and under the SAAMI maximum pressure of 35,000 PSI.
Ensure when shopping for 9mm brass that you get 9mm Luger brass, as there are several varieties other than Luger. Once Fired Brass (OFB) is a cheaper alternative to new brass, so it should be considered for 9mm reloads. If you are not an experienced reloader, you should read Once Fired Brass: The Beginners' Guide to Reloading.
Overall Length (OAL) may vary slightly when reloading a 9mm Luger. It's a good idea to load only a handful before safely checking them in your weapon. You want to avoid being caught at the range with 1,000 pretty cartridges only to find out they won't chamber! Below are the items related to reloading the 9mm ammo we currently have in stock.
380 Bullets for Reloading
The 380 ACP bullet is the same diameter as the 9mm, so many of those bullets below will work well for reloading it as well. However, 380's normally weigh 100 grains or lighter, as they are not built for a heavier bullet like the 9mm. Some of the most popular ones are the 380 XTP bullets for reloading.
Product Listings