40 Caliber/10mm Ammunition Reloading Supplies
Background 10mm and .40 Bullets
The 10mm was first introduced back in the early 1980s as a pistol cartridge known as the 10mm Auto. The FBI used these for a while, but due to what they considered 'excessive recoil' they were replaced. The 10mm Auto was still a favored round by many, but Smith & Wesson decided to create a lighter, more manageable round, which was called the 40 Smith & Wesson (40 S&W) or the 40 cal. The ammunition uses a cut down version of the popular 10mm Auto cartridge. Because both the 10mm and the 40 S&W use a.40 or 10mm bullet, the 40 cal bullets are interchangeable (not the ammunition).
Reloading 10mm and .40 Bullets
.40 bullets weigh from 88 grains up to 200 grains and are available in mostly copper, although a few are available in lead. Velocity is usualy between 900 to 1,200 FPS. Where as the 10mm Auto is usually between 1,200 and 1,400 FPS.
Another point to consider for readers 'bullets' are projectile tips or bullet heads, they can't just be put into a gun and fired. They are one of the four components necessary to make a 'live' cartridge (ammunition). So make sure you are really shopping for what you expect the product to do; if you want 'ready to fire' then you are looking for 'ammo' or 'ammunition'.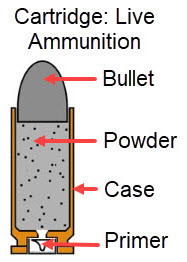 40 S&W Bullets
Common 40 cal bullets or heads/projectile tips are Round Nose (RN) and Hollow Points (HP), with many variations on each. For example, Berry's Bullets manufactures both a Target Hollow Point (THP) and a Hybrid Hollow Point (HHP)). Hornady manufactures an eXtreme Terminal Performance (XTP) and a Hornady Action Pistol (HAP). For self defense and small game hunting, a Hollow Point bullet is preferable for expansion and knockdown. For plinkers, however, the 40 reloader should consider a plated bullet such as Berrys or a lead bullet which work well and give you the best bang for your buck. Literally.
Slower burning powder works well with 40 S&W bullets and the 10mm bullets because of their low to medium velocity (800 - 1,500 fps). Tightgroup, CleanShot and CFE Pistol powders are just a few that reloaders use with these bullets. When reloading cartridges, remember to ALWAYS follow your data guide and stay within the standards listed as well as the SAAMI maximum pressures.Never seat the bullet head (projectile) deeper than recommended, as that will increase the pressure.
When shopping for 40 S&W brass. 40 S&W Once Fired Brass (OFB) is a cheaper alternative to new brass, so should be considered it for 40 reloads. If you are not an experienced reloader, you should read Once Fired Brass: The Beginners' Guide to Reloading. Overall Length (OAL) may vary slightly when doing 40 cal bullet reloading. It's a good idea to load only a handful before safely checking them in your weapon. You don't want to be caught at the range with lots of pretty cartridges only to find out they won't chamber! Below are the items related to the 40 S&W and 10mm with the in-stock items sorted to the top.
Product Listings