Dirty, Quick & Cheap - Cleaning Small Batches of Brass Efficiently and Quickly
by Drew Joszku
Sometimes when you're done shooting and it wasn't a huge range day or you've got a couple small batches of brass, you'd like to get it cleaned quickly, easily and it's absolutely a bonus if the method is inexpensive. That's what we're covering here...a way to clean up some brass in a simple and easy way that doesn't cost a lot to get setup and has some ancillary benefits as well.
Ultrasonic cleaners
You are most likely either very or somewhat familiar with these; especially if you like to clean up and/or restore old firearms. Your initial thoughts might consist of something like "yes, those are great but insanely expensive!". Until recently, I thought this to be the case as well. Luckily (well, my wife might disagree) I'm a "tinkerer" and like to try to find ways to improve, fix or augment things or processes to make them better, faster or for less money. This being the case coupled with me working on restoring some antique long arms from the late 1800's lead me to inquire as to whether I could find an ultrasonic cleaner and whether it would work to clean 140 year old gunk out of gun parts and carbon, etc, from fired brass. After a very short period of research I found a 750ml ultrasonic cleaner could be had for less than $20 so I took a chance. I'm excited to say that it's paid off concerning cleaning a nasty lock from an 1864 Snider rifle as well as small batches of dirty brass. For the price, the results have been outstanding. Please keep in mind the price of the cleaner and keep expectations reasonably in check as well.
Here is the soon to be famous (or infamous) ultra-inexpensive ultrasonic cleaner: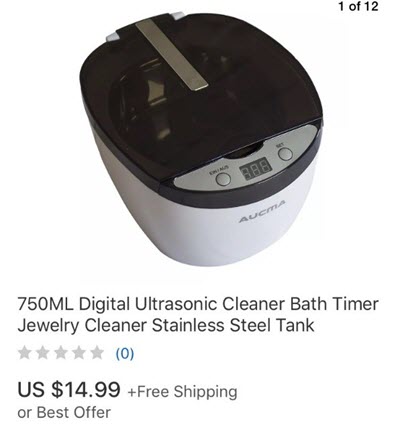 Here is what I've found concerning what to use and results:
Mixing 50% Simple Green cleaner (found at your local Wally World or many other places) with 50% water and running this 2 times for 8 minutes each (480 seconds on the unit, run twice concurrently) has given me some outstanding results. Now, I tested this on brass that wasn't too old but very dirty as well as some 45 ACP brass that was dirty for a long time without being touched. The results made me pleasantly surprised and now I've got an inexpensive ultrasonic cleaner that I can use for brass or a wide range of items from gun parts to the wife's jewelry (Note: Please clean out the unit before cleaning your wife's beloved items or you may have a much less than desired outcome). I do want to note some caution here; this formula is great for nickel plated cases and seems to work well for brass but I do recommend rinsing these off with water right after removing. It is also absolutely possible to utilize a mixture of 50/50 water and dishwashing liquid from the sink if you want to try this out as cheaply as possible.
The most exciting thing about this is the fact that there is much more experimentation to be completed before I find the best formula (which will be happily shared to you).
In the meantime, try this recipe and hopefully you'll get some pretty encouraging results. Make sure you do keep in mind that brass you've had sitting for years may not come out brand-spankin' new looking on the inside with only a couple runs through it. That said, you should be able to run 50 to 100 cases (depending on type and size) at a time and be able to just dry them and then reload them for some more shooting fun. Now, the good stuff…Pictures:
Here is a batch of some 45 ACP, 9mm and 45 Colt (Long) when I first put them in: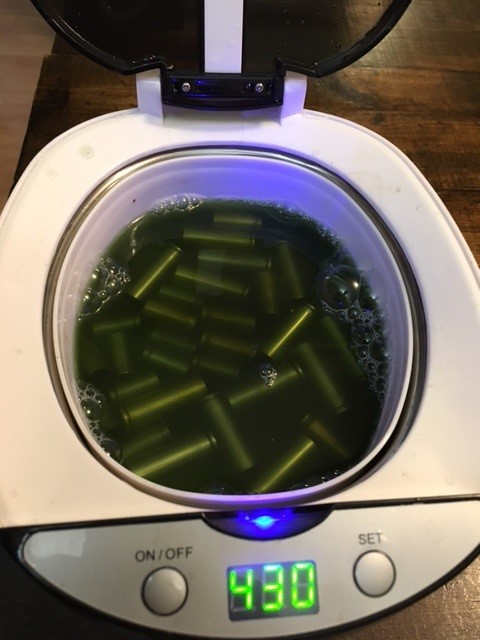 Here is a pic after (this is 2 runs of 480 seconds each):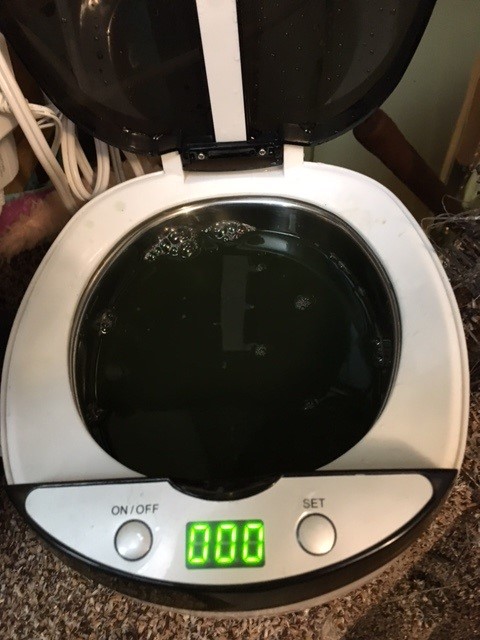 Here are the results (please note, I forgot to get some good before pics as I was too excited to get going):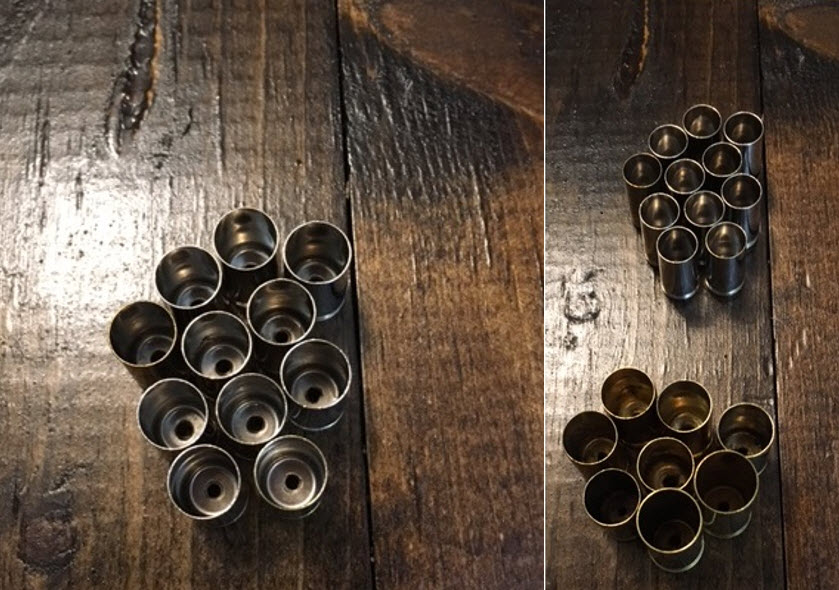 I'm happy to have tried this and might upgrade to a larger one (they can be had for around $50 on eBay or Amazon if you look or can be had for considerably more from brands related to our beloved "hobby").
Note: Drew Joszku is an accomplished writer as well as an expert reloader. Some of his articles can also be found on USACarry.